Genaaiden
NL 8275277-82
Son of Super Pair
Top breeder and founding cock
Winner Europa Cup


Pedigree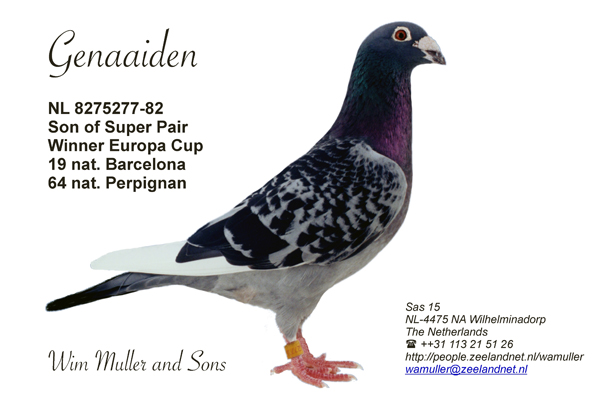 Record
19 nat. Barcelona
64 nat. Perpignan
Origins
Genaaiden is a son of the Super Pair and until today one of the main founding pigeons
Offspring
Genaaiden is whitout doubt one off the most important pigeons in the building of the Muller strain.
Descendants of the Genaaiden won a.o.
2 nat. Barcelona
4 nat. Bordeaux
5 nat. Dax
5 nat. Perpignan
6 nat. Barcelona 10 nat. Perpignan
11 nat. Perpignan
31 nat. Pau
46 nat. Dax
57 nat. Perpignan 60 nat. Barcelona
79 nat. Perpignan
91 nat. Perpignan
91 nat. München
96 nat. Pau
99 nat. Perpignan
118 nat. Perpignan
History
Genaaiden ("sewed") got his name when they had to sew him after he came home whit his crop totally teared apart.
Genaaiden was a living proof of the superior vitality of the Muller pigeon. Genaaiden was a very good racer, but he stil filled all his eggs at the age of 19 years. He died at the age of 21.